I decided to create a fictional character to demonstrate that becoming a Ski Bum is definitely possible for a Digital Nomad. All the costs & information were researched while I was in Bansko, Bulgaria in February 2012.
Cheers,
Colin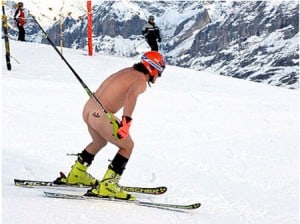 I pull back the blinds at 7:30 am and see that the sky is puking snow! Last night the stars were twinkling when I went to bed, but this morning I am greeted by 30 cm of fresh powder. New snow means it's time to get ready for the mountain.
I down a quick breakfast of toast with Bulgarian feta cheese (best in the world!), salami, and sliced tomato. Chase that with orange juice from the supermarket. The total cost of my breakfast is about ?3.50.
Next up, I make my lunch. Nothing fancy, just a ham, cheese, and salad sandwich that I keep in a deep pocket of my jacket to avoid the exorbitant prices for lunch on the mountain. Although Bulgarian resort food is relatively cheap when you compare the prices to an Austrian or French ski resort, the cost still adds up.
I put on my last layer of clothes and head out with my roommate, Sam. After searching for a week, we found just the right apartment. The rent for our two-bedroom apartment is about ?150/month, and I split the cost with Sam, who also lives a life where he can work and travel anywhere in the world. Utilities, like electricity, water and internet, cost us about ?150/month so it is very manageable.
On a day-to-day basis, I have very few expenses ? one of the best parts of committing to stay at a ski resort for the whole ski season. I needed a bit of cash upfront to buy my season pass and my equipment, but now I only spend pocket money.
My season pass for Bansko cost me about ?450. My snowboarding equipment (boots, board and bindings) set me back another ?400. I could have spent a lot more on equipment, but what I bought is more than sufficient for my skill level. I'm okay on a snowboard. When I was in university I spent four months working in a ski resort, so I learned to snowboard and got pretty good in the end. I certainly won't be landing 540s off a kicker, but I do spend most mornings that I ride in the trees.
Winter gear was the other initial expense. Before coming to Europe I was in Vietnam, where I picked up some genuine North Face gear ridiculously cheap. I grabbed a snowboard jacket for about $35 US, and snowboard pants for around $25 US. I also bought a few pair of thermal underlayers (which have saved my butt, literally, a couple times this season) for about $30 US in total. I thought I was lucky to stumble on this shop in Ho Chi Min City, but after walking the length of District 1, I saw that almost every second store sold genuine North Face gear. They probably have someone inside the factory that gets them stock.
Unusually the gondola line is snaking back about 50 meters today. You can usually predict the length of the line based on the day of the week, the time, and whether it's snowing or sunny. When we've had a dump of snow overnight a lot of the fair-weather skiers stay at home or come up late. But some days, like today, nothing makes sense.
The 50-meter line-up means those guys will wait 40 minutes. Sam and I bypass the crowd and head straight to the gondola in the priority line because we have season passes.
The ride up the mountain goes quickly while I check and respond to client emails. I usually ride with a small backpack and it has enough space to fit in my iPad, which I carry in a tough case for those moments when my snowboarding isn't so stellar. Carrying the iPad makes checking and responding to email that little bit easier.
It only takes us a minute to get off the Gondola and over to the ski-lift.
Today Sam & I are making our way over to the trees over near Run 10. We need to ride a couple of lifts to the top but then we can drop in on the trees and spend most of the morning making fresh tracks in that section of the mountain.
The snow is deep, waist deep! Riding on days like this is why I love my life!
How many people get to spend 3 months snowboarding everyday? In a ski resort there are a few (night) jobs but there are not many of them and they certainly aren't glamorous. A liftie (life operators) or the ski/snowboard instructors spend their day on the mountain working. Normally they spend it in the cold teaching some beginner how to stand on a board rather than riding waste deep in power through the trees. I know what I would rather be doing!
Today the temperature is about -15degrees but after 2.5 hours of riding I'm sweating, my goggles are fogging up and I am exhausted. We head in for a quick drink and to check email. Last week when I did this I had a notice from my server monitoring software to tell me that my web server was down. I quickly grabbed out my iPad and logged into my server. Sam kept riding. Once I fixed the problem I radioed him on the walkie-talkie and caught up with him.
At noon we found this perfect drop-off. It was only 10 foot, but still big enough to scare the shit out of me. In the end we spend about 2 hours riding that drop-off.
In total I only landed about 4 of the drop-offs, the other wipeouts varied in their degree of terribleness. One wipeout I ended up facing down the hill in about 4-foot of snow. Recovering from the initial shock of thinking I was buried I started to get myself out. It took 10 minutes to work myself up as every time I tried, I push myself further into the snow. Even though that sucked it was awesome! To drop-off a 10 foot cliff, wipeout and not hurt yourself, is freaking cool.
Days like today are the days you want to try new things cause even if you f*%k it up, it doesn?t hurt.
At the end of the day rode from the top of the mountain right down to the village, bypassing the Gondola. It's a 15km run! The last kilometre is pretty flat so you have to ensure you have some momentum to make it to the bottom without having to unbuckle and trudge your way down.
Walking back to my apartment, my mind is already on work. I am currently working on a new web app for one of my clients back home in the US. The app is pretty cool and I'm getting through it pretty fast actually.
I generally work from about 4pm till 6pm and then we head down to the pub for a couple of beers (about ?2/ 500ml beer) with mates before coming home to cook some dinner (buying groceries at the supermarket means our dinners work out at around ?5/person).
At 8:30pm I start working again and work through to 11pm. I am pretty strict with my time and try to focus on my work only when I am working. This means that instead of working the 8 hour days in the office like I used to, I now can achieve the same amount in 4 hours. Sometime I work on weekends, but the day of the week doesn't mean so much to me now that I am doing something I love everyday not just on the weekends.
There are other days when the snow isn't all that great and I have a deadline or two that I might skip the day on the mountain to catch up, but thankfully that doesn't happen all that often.
Sam & I have our apartment here until late May and then we head up to Scandinavia as a few bloggers have been talking about Lapland adventure holidays and I have been talking about seeing the Northern Lights for way longer than I care to remember. We plan to stay up there for 3 weeks as our budget is limited.
So now I only have one question? After Scandinavia do I head to a ski-resort in the southern hemisphere or to a beach in Thailand? Hell! I might even go skiing in Yabuli, China!