The digital nomad life is an awesome experience leading to both location freedom and travel adventures like no other. But are there any travel options that aren't compatible with the location independent lifestyle? Like cruises for instance.
We don't worry because we've got this covered!
Here's our reasons why cruises are totally worthwhile when you're a digital nomad and some of the best cruise ship advice for digital nomads.
Cruise ships are giant playgrounds
If you're a digital nomad or thinking of becoming one then you'll know that a lot of the time you're lugging around lots of tech and travel toys that make your life easier. Well guess what a cruise ship is very much the same thing, admittedly on a much MUCH larger scale!
This actually means you get to travel without lugging your stuff around as you can leave most of it in your room for the duration of your cruise. Things like battery chargers and mobile wifi devices, backpacks full of GoPros and DLSRs and laptops. While sure you might want to make use of these, you wont need all of them with you as you're never that far from your bags. Take the weight off your shoulders and make the most of knowing your bags are travelling with you, just not on your back!
While the destinations and the journey are the most exciting part of any cruise, they are also one big giant playground both for adults and kids (depending on the type of cruise you're on). Everything from theatres and cinemas to multiple restaurants, multiple pools, even zip-lines and water slides! Chances are you'll never be bored and you'll have to schedule in work time (if you really need it). At least the rest of the family will have something to do while you work for a few hours.
Wifi and work life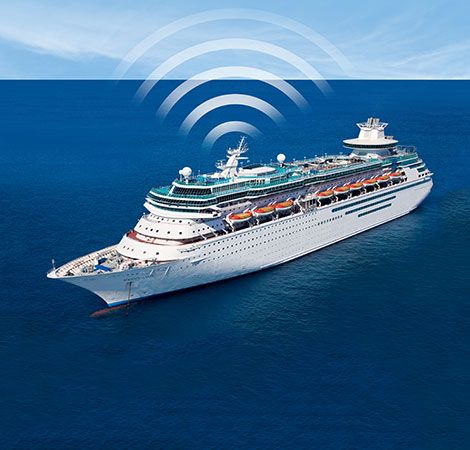 You might be at sea but one great thing about modern cruise liners is that they all have wifi connectivity! These days satellite linkups for internet access are commonplace and prices are steadily dropping as competition and demand increases. How much you pay per day can vary depending on the location and the cruise company but if work is important while you travel then its worth paying for access to get the job done, out the way, so you can get back to the pool! Internet access is on average around $20-$30 a day which may sound expensive but you could easily make that money back with your location independent business.
One thing I would say is don't rely on satellite connections, they can often drop out during a voyage, especially if the ship changes course or there's adverse weather. You're also sharing the connection with plenty of other internet addicted passengers. So I wouldn't recommend scheduling important Skype meetings that could make or break a deal! Its usually fast enough for email checking, uploading small files, images, etc. Avoid uploading your 4k videos to YouTube!
If you need something  a little quicker then head to dry land when you dock and hunt out the nearest internet cafe or hotspot.
Where to go on a digital nomad friendly cruise?
There are of course thousands of options when it comes to cruise trips but there are some areas of note that are well worth investigating. I'd recommend coastal tours rather than transatlantic or transpacific. Coastal tours usually have more stops at more places, so more destinations for your money (and more chances to jump ship for faster wifi).
Cruises around the coast of western Europe and the Mediterranean fulfil this criteria well. Another up-and-coming cruise option are in the middle east, with Dubai cruises a great option thanks to the ever increasing tourism in the region.  In terms of fast internet on-land and reliable satellite connection you're well covered in that region.