Welcome to the new look NuNomad website. Its been a long time coming but finally there's an exciting new design for the site! Over the coming months we'll be rolling out new features for both digital nomads on the road right now and for those that aspire to live the location independent lifestyle. We've cleaned up old broken links, reformatted much of the great articles that are so useful to many and improved the structure of the site to make things more useful for our readers.
New management
My name is Matt Preston and I've been a location independent travel blogger, writer, photographer and website designer for nearly 5 years now. I've long been a visitor of the Nu Nomad website and I recently had the chance to take over the controls and bring a new lease of life to this great hub of information. Over the years I've seen a growing network of digital nomads appearing all over the world, sharing useful information, contacts and even collaborating on projects together.
Plans for the future
My long term goal for NuNomad is to offer a place not just for useful information but to act as a conduit between nomads. A place to promote your skills, reach out to other like minded nomads, compare notes and find ways to work together remotely. We have some great ideas for the site which we'll be adding in the next few months. We welcome any and all ideas you have that will help you be a better and more profitable digital nomad! So please do share them in the comments below or email us at [email protected].
Get our E-Book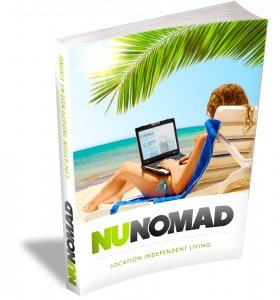 One of the greatest things about the NuNomad website is the fantastic E-book created by Richard Hamel and Carmen Bolaños. Over 180 pages of well researched and highly useful information to help anybody looking to live the location independent lifestyle. Everything from the emotional and mental changes in your life, preparing to leave, organising visas and tax issues, staying healthy while you travel and how to create mobile office while you're away. Its all in there and well worth downloading. The latest edition is now available on Amazon's Kindle
, the Apple iBookStore for your iPad and iPhone as well as good old fashioned PDF. You can find out more here and get your guide to the location independent lifestyle today!
What to do now?
There's tonnes of fantastic articles on this site to get you started on the road to your ultimate location independent life. I recommend checking out some of our How To articles. Check out "Preparing yourself" and how to connect to the internet while you travel. We've also got some great destination guides for digital nomads and tonnes for great travel advice too, after all being location independent isn't all about work!
Connect with us
There are loads of ways you can connect with us today. Join our Facebook group and meet other digital nomads and be sure to follow us on twitter too for the latest info from NuNomads.
Give us your feedback
Do you like our new look website? Got any suggestions for us? Or just want to say hello! Leave a comment below or contact us on our social channels.