After months of planning (Yes, months. This trip has caused me more planning than our year abroad.) it was finally time to hit the road.  Packing a van for 6 people to camp across the country proved challenging.  It became apparent that we would not be able to fit everything inside.  A quick call to a friend luckily resulted in a soft rooftop container that we could borrow to contain our 6 sleeping bags and 3 of our sleeping pads.  With careful placement of everything in every available space we were able to fit all our stuff and keep all the seats available for human use as well.
We packed the night before our departure and went to bed.  Our second daughter was away on an Appalachian Service Project and the plan was to meet her group at their final campgrounds before their return to Texas.  The meeting place would be DeGray Lake Resort State Park in Arkadelphia, AR, just west of Little Rock.  Even weeks ahead I had not been able to make a camping reservation at this resort because we would be arriving on 4th of July and everything was booked. Fortunately for our trip, however, that caused me to find the Army Corps of Engineer Campgrounds website that was eventually the source of many of our camping choices.  We found a tent spot at Caddo Drive on the same side of the lake.
Day 1
After a quick breakfast of oatmeal and with all the excitement that comes with leaving for family vacations, we piled into the van on Monday morning and took off.  Mapquest estimates the trip at 7 hours 36 minutes and 475  miles.  We wouldn't be stopping at any colleges on the first day. It would just be direct driving.  The girls had a plan to pass around knitting continuously as we drove and change colors at each state line so that in the end the size of each piece will reflect the size of the states we passed.  They set to work as we got on the highway.  Leaving on a holiday meant traffic was minimal.  However, it also meant cops were shooting radar at nearly every mile marker so we had to pay attention to our speed.
Leaving Texas is always a feat in itself.  If you live in central Texas, you'll know it is nearly a day's drive to get out of your own state.   Nevertheless, after about 6 hours we managed to cross the state line from our own sun scorched and drought suffering state into Arkansas.  For anyone driving north on I-35 who needs to make a rest stop, I highly recommend stopping in Waco just before the bridge at the Texas Ranger Hall of Fame.  They have a public restroom, travel information, a nice place to picnic along the water, interesting historic graveyard and, of course the Hall of Fame.
We made it to DeGray Lake in the estimated travel time (give and take for stops and eating) just in time to pitch our tent in the first rain we Texans had seen in 8 months.  This is a new tent for us.  We had pitched it once at home for practice but putting it up for the first time in the rain was a bit stressful.  In the end we got it up but because it had been stored with the windows open and it has a netting roof, there was substantial water let in before we could get the tarp in place.  We quickly realized we should have brought extra towels for situations like this.  Of course, as soon as we got the tent up and reasonably dried on the inside, the rain stopped!  We were able to set up our camping stove and cook up the ratatouille and some rice from the cooler for dinner. The girls then took a quick swim in the lake and we headed toward the dam to see the fireworks.
The lake was pretty and the fireworks well attended.  We then returned to sleep.  The Caddo Drive tent camping area at DeGray Lake is somewhat tightly packed.  We were quite close to neighbors.  Being close to your neighbors on a holiday like 4th of July isn't ideal.  There was quite a lot of noise that night well past midnight but we hunkered down and tried to sleep.  Luckily for the girls they were so tired they fell asleep anyway. My husband and I weren't quite so lucky.  If I were to re-plan this trip I might not camp on 4th of July as I value getting rested when I'm having to drive.
Day 2
The Appalachian Service Project was scheduled to leave the park at 7:30 am.  We weren't able to get ourselves packed up that quickly so we had to drive over to get Sophia before packing.  We found the group, exhausted but glowing from their experience, and after many tearful goodbyes returned with our daughter.  With one more suitcase, sleeping bag, sleeping pad and human being we set out for our second day.
Our first stop was to be Rhodes College in Memphis, TN.  Those of you looking for a similar trip might also consider Hendrix College in Arkansas which is another liberal arts college praised by Loren Pope in Colleges that Change Lives.  From Arkadelphia to Rhodes is about a 3 1/2 hour drive.  Because of our late departure we didn't make it to our scheduled tour on time and had to call ahead to let the college know we'd be late.  The Rhodes admissions office was very kind and we were able to have a later tour.  We were all highly impressed with what we saw at Rhodes. The new library was especially beautifully designed (see post featured photo). Walking through the campus you had the feeling that someone had taken Oxford University and plopped the buildings down in Memphis. The girls liked the discussion style format of classes.  The admissions office knows how to put on a good show, projecting your name onto their large screen introductory video and serving custom made cookies with the Rhodes "R" in icing as well as southern style peach iced tea.  I have to say, as I write this now from Connecticut and after having seen several more colleges, no other admissions office has equaled Rhodes welcome to their visitors.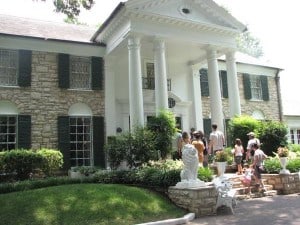 We said goodbye and quickly exchanged our college search hats for our tourist hats and headed over to Graceland!  The home and burial place of Elvis Presley and his family, Graceland is one of those "must sees" for anyone passing through Memphis.  Honestly, it is a bit pricey, and with a family it wasn't without a wince that we decided to go ahead and see it.  But luck was with us that day.  As we walked towards the ticket office two women gave us 2 adult passes they weren't using saving us $70!  Sometimes the force is with you.  My husband and I had seen Graceland about 20 years ago.  Since then the tour has improved with a complimentary audio tour with excerpts from Lisa Marie Presley.  They have also opened the racquetball building and moved many of the costumes and museum pieces to the mansion side from across the street.  Our German exchange student particularly enjoyed getting to see Graceland and we each had our favorite rooms.
It was then time to head to our next camping spot just passed Nashville, Seven Points.  Memphis to Nashville is just over a 3 hour drive.  We also had to stop for dinner along the way.  This is where Mapquest failed us.  As we neared our destination, it was clear we were in a residential area.  In fact, as we came to the exact address we were sitting in front of a small bungalow home in central Nashville.  Luckily, the copy of our reservations from the Army Corps of Engineers also had directions to the campground and it became quickly apparent they were quite different.  We got back onto the highway, followed the second set of directions and made it to Seven Points – just in time for rain!
As we pulled into our site after 9 at night we found another family in our place.  It seems a lot of people come into campsites late and take spots without reservations.  We were fortunate that this family agreed to move without any problem, so we went straight to the showers while they dismantled their tent.  This time we were prepared for the rain. Our windows and doors had been zipped shut and we had folded the tarp into the tent so that it covered the roof.  We raised our tent with minimal water entering and went straight to bed.
Day 3
Seven Points was a much nicer campground, more private and quieter than the one in Arkansas. We had a lovely spot on the lake and woke up to ducks who enjoyed some of our old bread.  We wished we could have stayed longer but we had a lot to do and see so we packed up after breakfast and hit the road for North Carolina.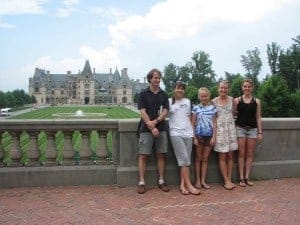 The road from Nashville to Asheville passes through the Smoky Mountains.  It's a beautiful route along I-40.  In about 3 hours we found our next sightseeing destination, the Biltmore Estate.  Anyone passing near Asheville really should stop at the Biltmore.  Although pricey (pricier than Graceland) it really is an amazing place and a place you could tour for the entire day.  Built by George Vanderbilt in the early 1900's, the Biltmore is a magnificently kept estate and probably the closest thing the United States has to European chateaus and castles.  Do see it if you ever have a chance.
Knowing the Biltmore would take us many hours to tour, we had nothing else scheduled that day.  We saw the home, the gardens, had an ice cream and moved on to our campgrounds in the evening after a quick stop for groceries.  We arrive at our campground  just east of Asheville at Lake Powhatan and just in time for – rain!  The Lake Powhatan campsites appeared to be geared very much towards rv'ers.  While the facilities were nicely kept with electricity, water and clean bathrooms there was not an appropriate place to pitch a tent.  We made due in our gravel driveway, had our dinner and went on to bed knowing we were in a good position to drive to Davidson College the next day.