When you consider the various landscapes and climates of the Earth, there's a huge potential for avid-skiers. Snow-peaked mountains are in abundance all over the globe, but unfortunately, you're not skiing down them. More likely, you and your friends are going to the same resorts everyone else is to get your speed fix. But as you know, you won't be going anywhere real fast when you're stuck jockeying for space on a slope with all of the other resort goers. Isn't it time that you experience skiing the way it's supposed to be experienced – on one of the many snowy peaks the world has to offer? Now you can with heli-skiing in the Rock Mountains.
The Rocky Mountains are a huge mountain range that sprawls over the western part of North America, containing some of the highest peaks on the continent. Stretching nearly 5,000 kilometres, the Rockies end – or start, depending on how you figure it – in Northwestern British Columbia. It's in this province, in a town called Golden that some of the best peaks, breathtaking views, and uncut powder await.
By helicopter, you can finally reach these once-unreachable landscapes to have the best ski of your life. With generous verticals and uncrowded slopes, you and your closest three friends will have an adventure of a life time. Expert guides will accompany you, to make sure your trip through the BC wilderness is a safe one, so you only have to focus on how fast you can go. After a full day of cutting powder, you and your friends will arrive back to the lodges in luxury. At the foot of the hills you conquered during the day, you'll retire with all of the modern amenities you could ask for – and some you didn't think to ask for too!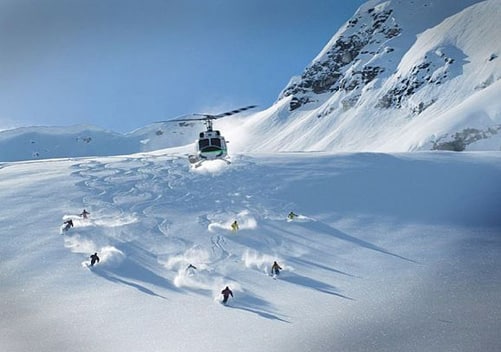 The only thing you have to worry about is showing up with the right gear. Most heli-skiing providers will have skis and helmets for you to use, you need to make sure you can spend a full day outdoors in the middle of the Rockies. Layered fabrics designed to stand up against the worst weather during peak physical performance is important, so be sure to pack your best gear including gauntlet gloves, scarves, socks, and – of course – ski goggles. After all, you don't want to be worrying about the cold when you should be focusing on the run. You can learn about what you'll need on your heli-skiing trip by checking out Canadianheli-skiing.com/blog-and-media. Read blog pots that flesh out the heli-skiing experience a little bit more, so you can be prepared for your trip.
Next time you plan a trip abroad to ski with your friends or family, remember the Rocky Mountains. Heli-skiing in the Canadian Rockies is sure to provide the best experience you and your loved ones will ever have, so be sure to ditch the chair lift for a helicopter!