Tips on Spending an Overnight Layover in Doha
Posted in: Blog
Traveling from the UK to many Asian destinations means taking long flights of 15 hours or more. In most cases, you will have to transit in one of the international hubs before continuing on another flight to your destination. All airlines do this simply because of the limitations of the airplanes we have today.
Doha Airport in Qatar is a common transit hub for many international flights, especially flights to Asia. Airlines like Qatar Airways and British Airways regularly use Doha as their transit hub due to its strategic location. With certain flights – like Qatar Airways' flight from Birmingham to Denpasar, Indonesia – you'll have to spend the night in Doha before your next flight in the morning.
Spending an overnight layover in Doha can be very entertaining. Doha has a lot to offer and is considered one of the liveliest cities in the world. Before your next overnight layover in Doha, here are some of the tips you need to know.
UK Passport and Qatar Visa
Your UK passport grants you a free visa on arrival. You just have to go through immigration to enter the city. The free visa is valid for 30 days and can be used for multiple entries. If you are travelling back through Doha as well, chances are your departure visa is still valid and you don't have to apply for another Visa on Arrival for your layover.
Since Doha is an interesting city to explore both during the day and at night, many travellers now schedule their connecting flight one or two days after the initial arrival. This is something you can try too; it gives you more time to explore Doha and enjoy the best of Qatar.
Getting to Know Doha Airport
Doha Airport is also known as one of the best airports in the world. During the day, you have hundreds of restaurants and shops to explore. Unfortunately, a lot of shops in the airport are closed at night. The same can be said for shops and restaurants in the city.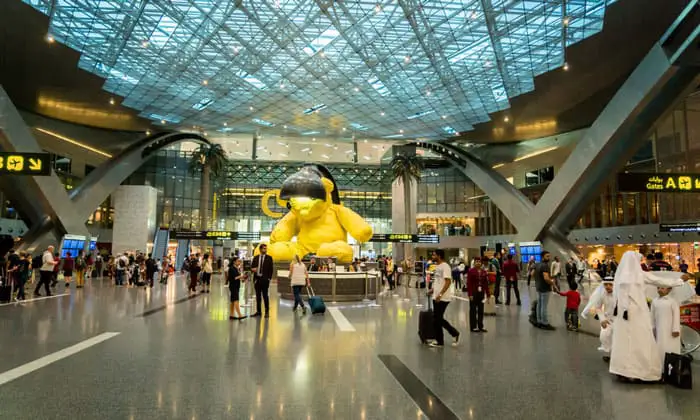 This is another reason why spending the layover in the city is a good idea. Of course, you have the length of your layover, the arrival time of the flight, and other factors to consider before deciding to exit the airport and into Qatar.
Pre-Arrange Everything
Assuming you have more than eight hours to spend in Doha, it is actually better to book a taxi to get you to the city centre or other places. Taking a taxi is the fastest and most convenient way. You can take a taxi back to the airport once you are done exploring the city.
Alternatively, you can get a taxi from the arrival gate of Doha International Airport. There are buses available from the same gate. You can visit the information centre for details about routes and how to return to the airport after a quick exploration.
If you have a hotel booked, you can also arrange the hotel to pick you up at the airport. This simplifies things and allows you to have more time for some quick urban adventures. The airline may also put you in a hotel; in this case, you'll have the airline taking you to and from the hotel. All you need to do is check before the actual trip, so you know what to prepare.
Things to See
As mentioned before, many places in Doha – and the UAE in general – are closed at night. There are a few 24-hour restaurants and places you can visit, but other venues like malls and shops will not be open until morning. You still have a lot to explore though.
For example, you can direct your taxi to take the waterfront route to the Pearl. The Pearl is a manmade wonder, featuring beautiful apartments along artificial canals. Visit the Porto Arabia 8 in the Pearl and you may find cafes, coffee shops, and restaurants that are still open.
Hotels usually have 24-hour restaurants and clubs too, and there are a few luxury properties in this area. The Marsa Malaz Kempinski is the perfect hotel to visit if you are looking for world-class dishes, great ambiance, and superb treatment.
Watch the Mood
An overnight layover is possible on both your inbound and outbound flights. If you are departing to a destination and you have an overnight layover in Doha, starting the trip the right way is critically important.
You want to arrive at the departure airport early and eliminate as many hassles as possible. When departing from Birmingham on a Qatar Airways flight, for instance, it is actually better to drive to the airport and use services like BirminghamParking.com to take care of parking at Birmingham Airport. Pre-booking airport parking is always cheaper. Plus it guarantees you a secure parking spot with a bus transfer to the terminal.
This way, you are in a good mood and ready for an adventure by the time you land in Doha. You'll be surprised by how much more fun your trip can be when you know how to spend an overnight layover in the city.