The Nomad's Guide to Budapest
When you want to break the mould and do it your way, there's nothing better than becoming a nomad. You've got the freedom and flexibility to go anywhere and work anywhere, so why not take a look at Budapest. It's fast becoming one of Europe's premier destinations, and there's a whole host of things to do there…
Take a walk on Castle Hill
It's a world heritage site for a reason, and it's the first place you want to head to after getting a good night's sleep at the Novotel Budapest City Hotel. With stunning views overlooking the entire city, you'll have everything you need to take it all in.
See the Neo-Gothic Parliament Building
It's stood for a century and seen so many great men and women come and go, but the visual never changes. If you want to really get to know one of the world's great seats of power you can even book a guided tour that will tell you plenty of amazing facts. Just what you need to really get to know this beautiful part of the world.
Ruin Bars are an experience never to be missed
Is it a chain? Is it a location? I know what you're thinking, and the answer is 'No.' Ruin bars are a phenomenon you won't find anywhere else in the world, and that means they're definitely worth a visit.
They're based in derelict and abandoned buildings, and do away with all of the plush comfort you find in places like the Ibis Budapest CitySouth Hotel. You've got Udvar, Szimpla Kert, and plenty of others hidden away waiting to be discovered.
Get trendy in the 8th district
The 8th district has had something of a meteoric facelift over the past couple of years, so ignore what you read about it in outdated guidebooks. If you want to experience Budapest's answer to Shoreditch, then go and take a look. There's plenty of artisan eateries, exhibitions, and artists all waiting to catch your eye.
Shop till you drop in the Central Market Hall
If you want to enjoy grand architecture, local food, and a great day out then there's nowhere better to head to. Really it's for the locals, not the tourists, but you're not just any old tourist. Being a nomad is about immersing yourself in the local way of life, so what better time to do it than the moment you arrive?
Explore the Buda Hills
With a 3 km long cog-driven railway you'll be able to explore some incredible surroundings and immerse yourself in a bit of communist nostalgia. Just what you need when you want to get to know Budapest's history.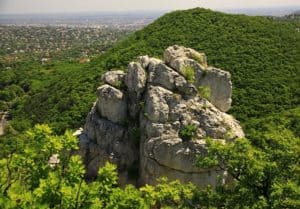 Take a plunge in the thermal baths
The thermal baths are a uniquely social occasion, so why not head there to cool down in the afternoon sun. Soaking up the rays and getting to know plenty of the locals is the best way to really get to know Budapest.