Trekking is primarily an all-consuming experience. If you're an outdoor person and walking is your preferred way to explore new locations, we've put together the following article to give you some great tips for making the most of your next adventure trekking holiday.
Mainly because, as exciting and appealing as it may sound, trekking is quite a task since you have to take care of all the fuss that comes along with planning a trip on your shoulders.
Also, trekking falls under the more expensive side of trips and vacations, and can cost your bank account quite dearly. But as the age-old proverb goes "when there is a will, there is a way". We have brought you a list of pocket-friendly trekking holiday destinations at your disposal. But first, we definitely need to sort out the priorities.
The first thing you need to be completely confident about before deciding on embarking upon a great trek is your stamina. Health issues are a major hindrance when you are on any vacation, especially if you have decided to undertake a trekking expedition. So be sure to get properly checked up by your personal or family doctor prior to your trip. Also, another disclaimer that you must familiarise yourself with before losing yourself to beautiful trekking routes are the safety measures that come complimentary with your itinerary. You should abide by your guide at all points and not expose yourself or your travelling companions to unnecessary troubles. If we are clear on these points, we are good to go.
Talking about trekking, the walk-in routes that we are to talk about in this article are diverse in nature as well as natural landscapes. We strive to provide you with quite a few budget-friendly trekking destinations that range from snow-clad mountains to lush green forests. So what are you waiting for? Just get your trekking gears packed and head to one of these wonderful destinations to have.
1. Into the Wild in Tuscany
From massive and awe-inspiring mountain ranges to lush and rich alpine scented meadows, from exquisite flora solely belonging to the mountainous region to charming medieval towns and villages, the dramatic landscape of Garfagnana boasts of an unknown and unperturbed Italy to be cherished by its visitors. Familiarly called Wild Tuscany, this destination is perfect for a walk-on holiday irrespective of whether you are travelling solo or with a group of companions.
Your days here will consist of serene and serenading walks among crystal clear lakes, sweet-smelling grass and dense forests. It is surely what an enchanting idea of a trekking holiday comprises of, especially at a budget-friendly price. Comfortable accommodation for overnight stays and delectable food is what makes this place a ten on ten walk-on holiday destination.
2. The Ethiopian Experience: Simien Mountain Treks and Lalibela
The Ethiopian landscape never fails to amaze its visitors. You will learn all about it in detail once you experience trekking through the World Heritage Site of the Simien Mountains. It offers the finest mountain scenery in the whole continent of Arica, consisting of majestic and high rising peaks such as the Ras Deshen(the fourth highest mountain in Africa).
Throughout your walk, you can bask in the experience of exploring the rich cultural heritage of the roof of Africa and can also spot the exotic wildlife native to this region, which significantly consists of the rare red fox or the Gelada baboon.
The neighbouring Lalibela is an ideal end point of this trip as you can see some of the most breath-taking pieces of natural art in form of the heritage churches carved out of rock formations. Needless to say, a number of these churches are listed in the UNESCO as well. The experience you have here is nothing short of experiencing the Grand Canyon.
3. The Abstract Trek on the Edge of the Sahara Desert
Doesn't a trek amidst an arid desert sound interesting and exciting to you? We are sure it does. That is why we had to include this particular trek along the magnificent Sahara Desert in this list.  After all, which trekking fan would miss the opportunity to experience the landscape of a picturesque desert by foot or bypass the chance of sleeping under the stars on a clear Saharan night sky? An unconventional trekking holiday around an absolutely mesmerising Moroccan region, this trek is all about excitement and adrenaline.
From dramatic plateaus to rich, red sunsets, from exotic bushes and acacia trees to sweeping dunes, this is a dream route for all trekking enthusiasts. Needless to say, the landscape is nothing short of enchanting with the Draa River or the dunes of Zahar waiting to uplift your spirits. Surprisingly, this is also sufficiently easier on the pockets. One word to describe this experience would be magical!
4. Trekking through the land of Myths and Marvels: Machu Picchu
We are sure this trek is high up on your bucket list of treks. But make sure you also add the absolutely quaint and charming trek through the Cordillera Vilcabamba to your traditional trek route. This slightly off route trek also ends with joining fellow travellers in the classic Inca Trail, which comprises of entering the famous Machu Picchu through the iconic "Sun Gate".
But what our extended version of it consists of, is a peaceful walk in through the tranquil Silque Valley, which is right across the absolutely magical Ancascocha Pass. This unconventional route will surely knock the winds out of you. And before you even get a chance to recover, you will find yourself in the remains of the erstwhile Inca Civilisation, which was as magnificent as its residual structures.
5.The Trek to Annapurna Sanctuary and Poon Hill
The heart and soul of Nepal lie in the massive and intimidating snow-clad peaks of the Himalayas. The Himalayan mountain ranges are home to many classic trek routes, however, the particular one amongst them that definitely stands out is the trek to the inner labyrinth of the Annapurnas. Surrounded by giant peaks that goes up to almost 8000 metres, the Annapurna sanctuary is a natural amphitheatre flanked by the great Annapurna South, Gangapurna and Machhapuchhre.
This trek is usually teamed up with a visit to Poon Hill, one of the most popular viewpoints belonging to the Himalayas. The trek usually takes up to 11-12 days and is completely easy on the pocket. But what is more important is that this trek manages to give you a consummate experience of both Nepal and the Himalayas, which is a big feat to be achieved in such a short number of days.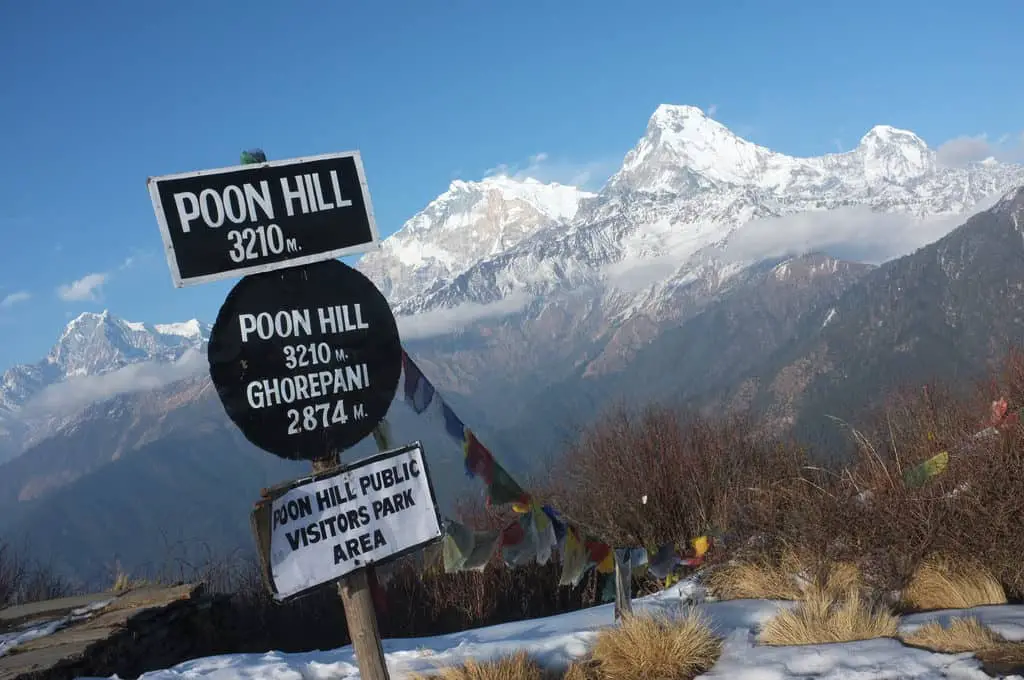 Though we understand we have probably skipped some of the conventional favourites and some other unconventional gems, our bets are placed on these 5 awesome treks. We are sure if you make it through these, you will never be disappointed.  Also, we really deserve additional points for making these easier on your pockets.