Posted in: Blog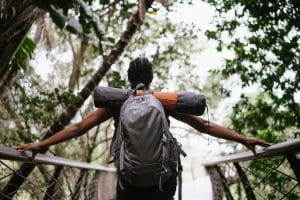 Travelling alone is an excellent way to see the world and get in better touch with yourself. Travelling opens your eyes to new sights and cultures and allows you to gain new experiences you'll remember forever.
Although you may be alone as you travel, it doesn't mean it has to be lonely and boring. There are actions you can take to make travelling solo more fun and exciting. You'll likely enjoy yourself a lot more and get more out of your trips when you implement these tips.
Be Adventurous & Go Exploring
Have a curious mindset and don't be afraid to be a bit adventurous even though you're travelling solo. Go out exploring and get a taste of the local culture and area. It may help to take a day tour or dine at a restaurant so you can meet other people and have engaging conversations with locals or tourists.
Learn a few words in the local language so you can better connect with those you meet.
Start A Hobby
Make travelling solo more fun and exciting by starting a hobby you can take up as you venture out and explore new lands. For example, you may want to consider getting into photography and capturing wildlife in its element.
Explore the topic in advance and read tips from long-time photographer and traveller Juan Bravo Fernandez of Puerto Rico so you know the best locations to do so.
You may even want to begin to load your images to social media or start a blog where you can share your travel adventures and images with your followers.
Try New Foods & Activities
Another way to make travelling solo more fun and exciting is to be willing to try new foods and activities. Learn more about which restaurants and foods you must check out and that the locals like to eat and then give them a try yourself.
It doesn't mean you have to continue to eat it if you don't like certain foods but at least you can say you gave them a try. Also, read about what activities are popular in the local area and reserve your spot early for the excursions and outings that interest you the most. I
t's not only a great way to get to see and enjoy the location but you may also meet some new people as you try new activities.
Stay at A Variety of Places
Instead of staying in one place or booking a hotel, keep your options open for what accommodations you choose to book. Consider staying at a variety of places and moving around throughout your trip to get different experiences and perspectives on the destination you're visiting.
For instance, you may want to reserve your own house one day and camp out in the wildness the next.
Pack light so it's easy to get around from one place to the next. Regardless of where you stay, always remember to focus on safety and keep yourself safe and protected as you travel. Know your rights and keep a phone on you at all times and avoid walking alone in the dark at night as you move around from one area to the next.