The Complete Guide to Surfing in the Mentawai Islands
Posted in: Blog
The Mentawai islands are an amazing place. Exotic, remote, beautiful, and they offer some of the best surfing in the world.
The waves swell up to 15 feet high year-round, the water is delightfully warm, and they aren't as crowded as many other surfing destinations around the world. Getting there is half the fun, but it isn't as simple as booking a standard flight.
Here's the complete guide to surfing in the Mentawai islands, including everything you need to know to enjoy your trip.
The Visa Requirements
The Mentawai islands are located off West Sumatra in Indonesia. These islands are located about 150 kilometers off the coast, and most of the seventy islands are uninhabited. These islands are considered part of Indonesia.
Once you arrive in Indonesia, you're eligible for a thirty-day visa that is free of cost. If you plan on staying longer than 30 days there is a small cost of 35 dollars upon arrival. Many services that fly you into the Mentawai islands from Bali will help you get the visa.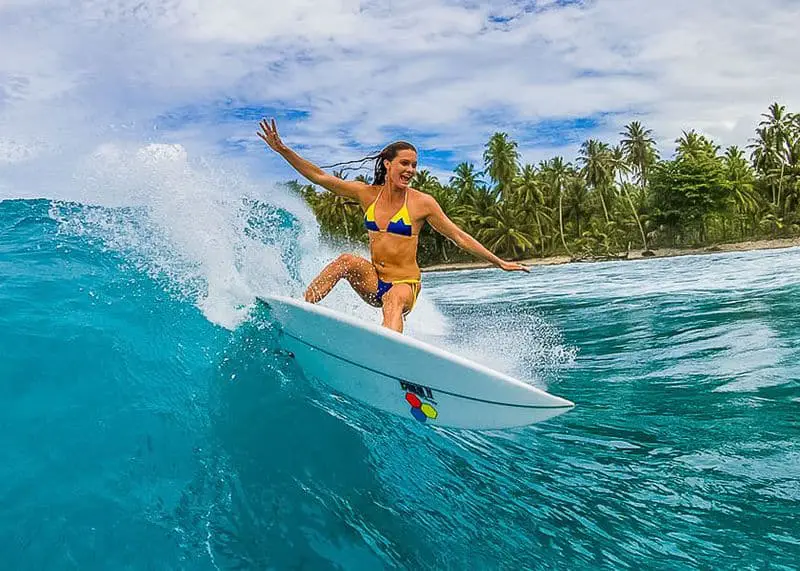 You can renew it for another month at any Indonesian Immigration Office once you are there.
If you want to stay longer than 60 days, you'll either have to make a trip to a major city like Kuala Lumpur to renew it monthly or apply for a 60-day tourist visa before you arrive in Mentawai, before renewing it at an immigration office in Indonesia.
How to Reach the Mentawai Islands
Getting to Indonesia is the first step in this journey. The next step is reaching Padang, the gateway to the Mentawai Islands. There are daily flights to Padang from Kuala Lumpur, Singapore, and Jakarta. If you're going to visit Mentawai from Bali, you'll have to take a flight from Bali to Jakarta to reach Padang.
The next leg of the journey is getting from Padang to the Mentawais. There are ferry ports that service the Mentawai Islands. If you've signed up for Mentawai surf charters, they'll charter a boat to get you to Mentawai.
Services like Surf Camp Sumatra may take you to Muara Siberut on Siberut, Tua Pejat on Sipora or Sikakap on the Pagai islands. Sikakap is notable for having both a fast ferry and an overnight ferry. Know that the fast ferry visits different Mentawai ports on different days, so check the schedule. A private speed boat can take you directly to the surf camp.
It is the fastest option, but it is also the most expensive. Most travel packages with Mentawai surf camps include boat charters; they may even pick up you from the airport in Padang.
The Best Time to Travel
While Mentawai has year-round swells and gorgeous weather, the most reliable surf season is between the months of March and October, though you can often find great surfing into November.
This loosely coincides with the dry season. You can surf between November and February, but the northwesterly winds will push you to lesser-known waves in the archipelago.
However, visiting during the off-season save you forty percent on most travel packages, which can be a great option if you're budget conscious.
On the other hand, you don't want to be here in January or February because that's when it is most likely to rain.
Accommodations
If you're attending a land-based surf camp, your accommodations and meals should be part of the package, along with daily boat access to the waves. This eliminates the need to haggle for a boat to take you out to surf.
If you want to save money by finding your own accommodations, you can always try to negotiate with local Mentawains. You control where you stay, and you get a taste of local life as well.
How to Surf in the Mentawais
Surf charter boats are starting to dominate the Mentawai surfing industry. Land-based camps exist and have a number of benefits. For example, land-based camps can provide a private bungalow so you can escape from your group members, which is always great if you want to be able to enjoy some privacy.
Or you can take a boat ride to local attractions. Land-based camps are the better choice for those who want access to Wi-Fi or just don't have their sea legs.
The alternative is staying on a surf charter. Those costs a little more but do have their benefits. For example, you'll be able to start surfing as soon as you wake up, and you'll have transportation to some of the most remote waves.
You'll also be the first to paddle out to some of the hottest surfing spots.
Conclusion
The Mentawai islands offer some of the best surfing in the world. There are a number of options for those who want to visit this remote area, depending on your budget and the experience you want to have.