Posted in: Blog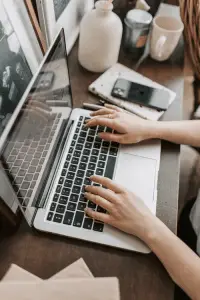 As an online business owner, you know that having a solid technical foundation is crucial to your success. But what do you need to have in place to ensure your website and associated systems run smoothly? This blog post will outline the critical components of a solid online business technological infrastructure. Read on to learn more!
1. Have A Plan – Know What You Want Your Website To Do And Have A Plan For How You're Going To Make It Happen
Before you even start thinking about design or coding, you must clearly understand what your website will do. What are your goals? Who is your target audience? What kind of content will you be offering? Once you have answers to these questions, you can create an action plan.
Figure out what pages and features you'll need, what kind of information you'll need to gather, and what kind of budget you're working with. By taking the time to develop a clear plan upfront, you'll save yourself a lot of headaches later on.
2. Use The Right Tools – There Are Many Great Tools Out There To Help With Website Design, Hosting, And Management
As an online business owner, you know that having a solid technical foundation is crucial to your success. Many great tools help with website design, hosting, and management. Use the right tools – they can save you time and money in the long run. For example, if you're not using a content management system (CMS), you could spend hours manually coding your website each week.
A CMS will automate much of this work for you, freeing your time to focus on other aspects of your business. Likewise, if you're still using an old-fashioned web host, you could miss out on features that would make your website faster and more reliable. Make sure you're using the right tools for the job – it'll make a big difference in your bottom line.
3. Have Someone Who Understands Technology In Charge
When running an online business, it's essential to have someone in charge who understands technology. This will help avoid any potential problems and ensure everything runs smoothly. There are a few things you should look for when choosing someone for this role:
They should have a good understanding of the various types of technology used in online businesses. This includes web hosting and domain names for email and social media. They should also be familiar with the latest trends and developments in the industry.
They should be able to manage and troubleshoot any technical issues that may arise. This includes effectively communicating with service providers and solving problems quickly.
They should be able to provide training and support to employees who are not as familiar with the technology.
Having someone in charge who meets all of these criteria ensures that your online business will run smoothly and efficiently.
4. Back Everything Up
Any business owner knows there are always risks involved, whether they have a brick-and-mortar store or an online presence. There's the risk of losing customers, the risk of losing money, and the risk of losing essential data. For online business owners, data loss can be especially devastating.
Without access to customer information, order history, and other vital records, it can be tough to keep things running smoothly. That's why making regular backups of your data is essential. Backups can save you a lot of time and energy if something goes wrong, and storing them off-site helps protect your data in case of fire or flooding. Taking these simple precautions can help ensure that your online business runs smoothly – no matter what happens.
5. Stay Current – Keep Your Software Up-To-Date And Learn About New Technologies As They Become Available
In the world of online business, it's essential to stay current. Technology changes rapidly, and what was cutting-edge six months ago may be outdated now. That's why it's necessary to keep your software up-to-date and to learn about new technologies as they become available.
It's also essential to keep your computer free of viruses and mac malware. These days, there are a lot of ways to do that. For example, there are lots of excellent virus protection programs. So there's no excuse for not having the best protection possible. When it comes to online business, staying current is essential for success.
In Conclusion
Have you implemented processes to ensure your website and online store run smoothly? If not, now is the time. Having a plan for technical difficulties can minimise their impact on your business and customers. Implementing these solutions today will help keep your website running so you can continue selling products and services online.