Posted in: Blog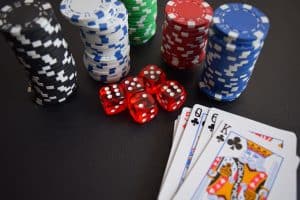 With the widespread acceptance of remote work, the number of digital nomads has surged over the last few years. In 2021, over 15 million Americans describe themselves as digital nomads looking for flexible work hours, independence, and the opportunity to travel. But to be able to sustain the freedom that this lifestyle demands, you have to be crafty at finding ways to earn income. One of the most interesting and promising jobs digital nomads can try is playing poker!
Why Become a Poker Nomad?
When done correctly, playing online poker can be a sustainable, lucrative, and enjoyable job. Plus, there are many countries worldwide where playing poker is legal. This opens up many opportunities for you to earn big money in places with a lower cost of living. And all you need is a laptop and an internet connection, so you're free to travel the world as you please as long as you still have access to poker sites. What's more, since there aren't as many poker nomads, you have less competition with more chances of winning.
Tips for Poker Nomads:
Master the poker basics
As a poker nomad, you'll be on the road a lot, so you won't get much time to practice. Hence, before you start traveling, it's best to master your skills first. Rather than getting too hung up on fancy strategies or copying poker pros, learn the basics of how to win at poker first. This will include playing a balanced range, learning how to play without ego, and networking with other players. These basics will act as your foundation and help you adapt to the different players and poker variations you'll encounter in your travels.
Research on poker opportunities
Poker is regulated differently around the world, so it's crucial to know in which places you can "work". In the United States, the legality of poker is complicated. Each state has different laws, but there are also many loopholes. Globally, though, there are also many countries with bustling poker scenes you can visit, like the UK, Canada, and Australia. And on the other side of the world are destinations like Japan and Macau. Doing your research ensures that you know where your can work and can also cue you in on special tournaments.
Separate your playing and living budgets
Budgeting is equally important as a poker nomad and a poker player. To err on the side of safety, keep the money you've set aside for your living and playing totally separate. This way, you won't be tempted to supplement one with the other, nor will you accidentally dip into one. Try to be strict with yourself and keep a log of your cash flow. This way, you can maintain a healthy poker bankroll that'll keep you playing longer, and you can better enjoy your nomadic life without fear of running low on cash.
Visit places that offer the best of both worlds
One of the biggest draws of the digital nomad lifestyle is the chance to travel to beautiful destinations. But, realistically speaking, not all the amazing and remote locations will offer the requirements you need to support online work. This is why experienced nomads advise visiting well-known backpacker haunts. They're far enough from the usual commercial hubs but also established enough that they offer modern-day technologies that poker nomads need—like stable internet. This way, you can still enjoy the local sights and activities without compromising your income.
Invest in your poker playing gear
Since poker will be your bread and butter, it's worth it to invest in gear that will a smooth gaming experience. Always bring your own laptop, an extra battery, a power bank, a mobile data hotspot, and a Wi-Fi extender. If possible, you should even have duplicates just in case one gets lost or stolen. This is also when travel insurance really pays off since insurers can help recoup some of your losses. Depending on the insurance coverage you get, all your travel payments and assets can be covered.
Poker may not be the first activity that comes to mind when thinking of work. But when approached with hard work and preparation, poker can be a great way to pad your income or even be your full-time job.